Description
Through this course, you will learn accounting and financial principles and utilize these skills to be a better leader.Strengthen your decision-making process and gain a better understanding of finances and budgeting to make confident decisions in your organization. In this course, you will use small business examples to demonstrate how to create and evaluate budgets and raise money for your organization. You will use these foundational skills to learn how to account for operations and assess performance. By doing so, you will gain a deeper understanding of how to invest in growth
The budgeting process
Different approaches to budgeting
Building an example budget
Initial investment
Loans
Net present values
Cost of capital
Accounting for operations
Determining COGS
Recognizing revenues
Depreciating fixed assets
Managing cash flow
Evaluating financials
Variance analysis
New projections
Principles of business valuation
Growth and valuation
This course is designed for anyone who wants to better understand the financial considerations of starting, running, and growing a business. This includes managers who do not have a solid grasp of financial administration and leaders who want to make better data-driven financial decisions.
This course is a part of the MBA Foundations Certificate. Participants who complete the certificate will receive a $1,500 scholarship applicable towards the tuition of any of the four MBA programs at the University of Utah.* Additionally, participants will have the opportunity to meet with one of our directors to discuss career goals.
*To qualify for the scholarship, participants must apply for the MBA program and be admitted. The scholarship is eligible for up to 18 months after completing the MBA Foundations certificate.
In addition to developing knowledge and skills, you will receive SHRM credits as proof of your accomplishment.
Eccles Executive Education is recognized by SHRM to offer SHRM-CP or SHRMSCP professional development credits (PDCs). This program is valid for 5.5 PDCs. For more information about certification or recertification, please visit SHRMCertification.org.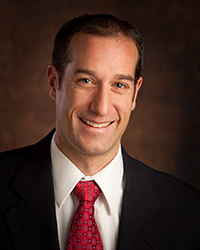 Brian Cadman, Ph.D.
Brian Cadman earned his undergraduate degree from Harvard University and his Ph.D. in Accounting from the University of Oregon. Before joining the faculty at the University of Utah, Professor Cadman was on the faculty at the Kellogg School of Management and The Wharton School. Professor Cadman's research focuses on the use and implications of accounting information on compensation design as well as the role of external monitors and other governance mechanisms. His research on compensation consultants and CEO pay has been cited by the SEC in a recent ruling. His current research projects include studies on the Troubled Asset Relief Program, the role of venture capitalists in firms going public, and more recently, pension plans, severance agreements and the market for CEO talent. Dr. Cadman teaches managerial accounting at the masters level, where his expertise on performance measurement and decision making brings great value to the classroom.
Looking for more information?