I came to the University of Utah David Eccles School of Business, not as a student, but on a work study program
Law school was my dream, and political science was my major, but I needed a part-time job. I found one as a secretary in the Management Department. After a few months of meeting professors and typing tests, I was hooked and changed my major to Accounting. I also started dating Tom Miner, a fellow Eccles School student. At that time in Utah, it was hard to find a man who was interested in having a wife with a challenging career. I told Tom that I wasn't sure if I wanted to work full time, part time, or not all. I knew I had found the right guy when he said that he also wasn't sure how much he wanted to work, if at all. He had matched my burgeoning feminism and raised it!
I eventually proposed, and we married after we both graduated. I took the CPA exam and started with Deloitte while Tom worked and started evening MBA classes at the U. After two years, we agreed that it was my turn for graduate school, and I still wanted to be a lawyer. My interest was in tax law, and I decided on NYU, which had a specialized LLM program in taxation.  Tom gamely started interviewing in NYC and accepted an offer with Accenture and then Lehman Brothers. We both worked hard and loved living in New York. I received my JD and LLM and began working with Sherman and Sterling, a large NYC-based law firm. Eventually, the long hours and working weekends were getting to Tom, and we agreed to consider other cities.  Both of our firms had offices on the West Coast, and we were able to arrange transfers to San Francisco.
We both wanted to have a family, and I had a client, the General Counsel of Del Monte Foods, who wanted to hire me to work "in house" with their law department. We eventually had three children during the nine years I worked for Del Monte part-time. Tom worked early hours and was able to get home to relieve the babysitter, while I went into the office later and worked later.
As Tom's work got more demanding and our kid's needs increased, I decided to take some time away from the law and get involved in my local community and schools. I served on the Board of Trustees of our school and on my county's library commission. I now serve on the Child Abuse Prevention Task Force for our county, which distributes state and county money for child abuse prevention. I'm also proud to serve on the Eccles School National Advisory Board.
I never imagined that my part-time job at the Eccles School would have led to such challenging and enjoyable careers on both coasts and introduced me to the person that has shared this fantastic journey!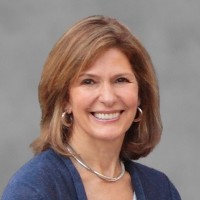 "I never imagined that my part-time job at the Eccles School would have led to such challenging and enjoyable careers."