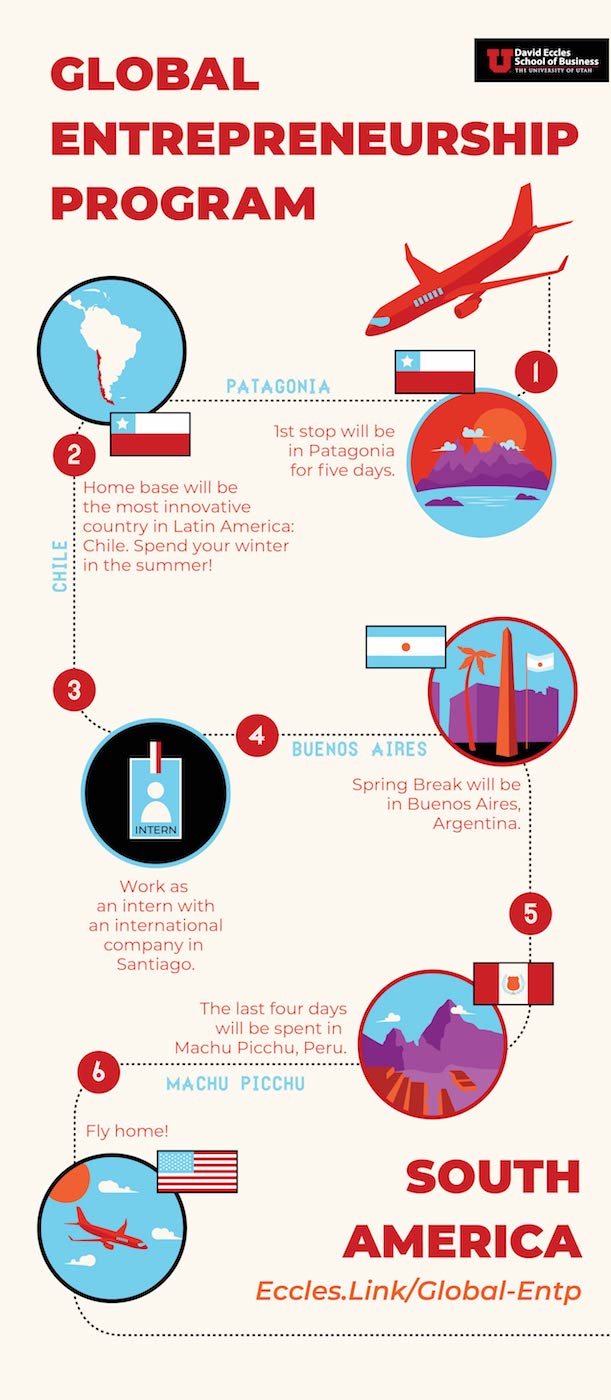 Spend Spring semester in Chile. Become an inventor, innovator, and entrepreneur. Be part of a team that creates digital solutions and develops the strategic plan for your venture's commercial success. Complete an internship in an international company in Santiago.
During the semester you will journey to Patagonia, visit Chile's top innovation business leaders, spend Spring Break in Buenos Aires, Argentina and finish the program in Cusco and Machu Picchu, Peru.
Limited seats available so apply now!
During the Spring you will take the following 15 credit hours and participate in hands-on experiential learning to become a real inventor, innovator and entrepreneur:
ENTP 1010: Entrepreneurship & Society
DES 2615: Intro to Design Thinking
ENTP 1020: Entrepreneurship & the Scientific Method
ENTP 2010: Entrepreneurial Marketing
ENTP 2020: Entrepreneurial Finance
You will also receive the Certificate in Entrepreneurship, Innovation Scholar Designation and will work as an intern for a tech business.
*You will need to take 2 other courses (a total of 3 credit hours) in the preceding Fall semester, and following Summer semester to complete your certificate:
BUS/UGS/HON 3050: Innovation Roadmap
BUS/UGS/HON 3051: Innovation Scholar Portfolio
Video: Cities of Chile: Santiago – Find your Chile
by Chile Travel