Women in Business Past Events
Archive of passed Women In Business Events. Students, faculty, staff, and allies were invited to get involved and attend!
Fall 2019/ Spring 2020
Women In Business & Spice Kitchen Incubator
As part of our philanthropic initiatives, Women in Business will host Spice Kitchen Incubator food trucks on the Emma Eccles Jones Plaza. Spice Kitchen Incubator is a food business incubator focused on creating opportunities for refugees and disadvantaged individuals through the development of successful food businesses that preserve culinary traditions and share their talents with the Salt Lake City community. We are excited to support the entrepreneurs behind Hayat's Grill, Jamaica's Kitchen  and Mother of All as they bring Afghani, Jamaican, and Sudanese food to campus (Read their stories by clicking on the links above).
February Empower Hour
Join WIB on Feb. 21 for an exciting and eye-opening activity about our shared and unique experiences in the business school and our lives. So often we forget how much we all have in common – whether it's passions, hardships, ideas, or curiosities. By doing this activity, we're able to see all that we share without having to be too personal or vulnerable. Get moving and get to know what you have in common with those around you and how you can support your peers with this Empower Hour! Light snacks provided. Take a look at the activity ahead of time.
Thursday, Feb. 21
12:12- 1:15 p.m.
SFEBB 7th Floor
All students, faculty, and staff welcome!
March Empower Hour – Invest Like A Woman
 Join WIB and Ann House, director of the Personal Money Management Center and certified financial counselor and educator, to learn the basics of investing because money is power! Investing may be the last thing you think of when swamped with college expenses, but even with a small amount of money, there are options to invest. This event is for female-identifying students interested in investing on a tight budget.
Thursday, March 21.
12:15- 1:15 p.m.
SFEBB 7th Floor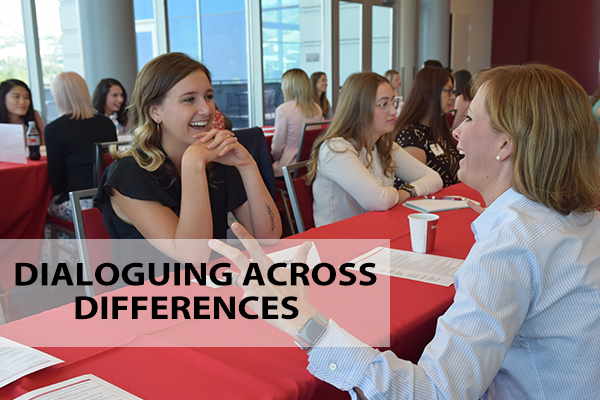 Dialoguing Across Differences & Women In Business
Join WIB and Dialoging Across Differences to discuss what it means to be a feminist in the workplace as well as your experiences with gender differences, expectations, and equality. This event is open to students, faculty, staff, and community members. Take a break from studies, relax, meet new friends and engage in productive dialogue over free dinner!
Thursday, March 28
5 – 7:30 p.m.
SFEBB 7th Floor 
Women's Golf Clinic
Join Women in Business for our annual Women's Golf Clinic! We will be partnering with Nibley Park Golf Course and teaching professional, Zachary Bowcut, to hold a two-day golf clinic. Learn the basics of the game so that you can be prepared for future business meetings and company retreats on the course! Please note that this event has a limited number of spots and these spots are first-come, first-served. This golf clinic is for female-identifying students only. All equipment is provided, and all costs are subsidized. 
If you RSVP and are later unable to attend, please release your ticket or let us know so that we can offer the spot to another individual.
Currently SOLD OUT to get on a waitlist email : Madalin.Rooker@Eccles.Utah.edu
Thursday, April 18 | 5 – 6:30 p.m.
Saturday, April 20 | 10 – 11:30 a.m.
Nibley Park Golf Course
Start Smart: Salary Negotiation Workshop for Women
In partnership with the Personal Money Management Center (PMMC), Women in Business is pleased to host an AAUW Start Smart: Salary Negotiation Workshop. This research-based workshop is designed for female-identifying students who are approaching the job market and focuses on confidently negotiating salaries to ensure you earn the pay and benefits you deserve. Lunch provided.
A big thank you to the Parent Fund for their generous donation which has funded this workshop, including materials and lunch.
Thursday, April 11
12:15 – 1:15 p.m.
SFEBB 7th Floor