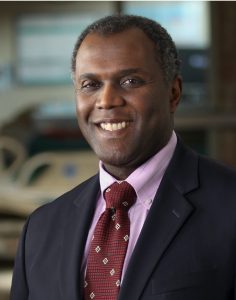 Stephen Lockhart, MD, Ph.D.
Former Chief Medical Officer for Sutter Health
Stephen Lockhart, M.D., Ph.D., was chief medical officer (CMO) for Northern California-based Sutter Health, a not-for-profit health system caring for 3 million patients—or one in every 100 Americans. As CMO, he had responsibility for quality, patient safety, research and education.
Prior to being named CMO, Stephen served as Sutter's regional chief medical officer for the East Bay, chief administrative officer at the St. Luke's campus of Sutter's California Pacific Medical Center (CPMC), and medical administrative director of surgical services at CPMC.
His passion for equitable health outcomes has fueled his leadership efforts to provide equitable care across the Sutter system, which resulted in the design and implementation of a health equity program and Health Equity Index (HEI) across Sutter in 2017. Using a precision medicine-like approach, the HEI provides Sutter with a deeper understanding of health outcomes among different patient populations.
In 2017, Stephen was named to Governor Brown's Advisory Committee on Precision Medicine as part of California's continued effort to use advanced computing and technology to better und