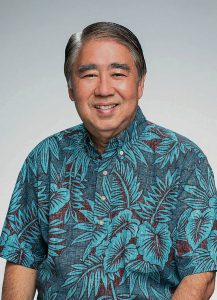 Mark M. Mugiishi, MD, FACS
President and CEO of HMSA

Dr. Mark Mugiishi is the president and CEO of HMSA, since February 2020. For the majority of his career Mugiishi has practiced and taught surgery in private practice and in association with the John A. Burns School of Medicine.  There, he was the Associate Chair of the Department of Surgery and Director of Surgical Education for the University.   He has served HMSA in a variety of capacities since 1995 from part-time medical director to consultant. In 2015, he joined the leadership team as executive vice president, chief medical officer and chief health officer, where he was responsible for many transformational initiatives, including innovative payment reform for the entire primary care network into value based global payments.
In addition to his leadership at HMSA, Dr. Mugiishi co-founded the Endoscopy Institute of Hawaii and the Eye Surgery Center of Hawaii, and was a medical director at Hawaii technology accelerators. He was a general surgeon in the state for nearly 30 years and was associate chair of the department of surgery and director of surgical education at the University of Hawaii medical school.
Dr. Mugiishi currently serves as chair of the Iolani School Board of Governors. He coached varsity basketball at Iolani where he led the team to 11 league championships and seven state championships. He holds the distinction of being the winningest high school basketball coach in state history, and in 2010, coached the All-American Nike Jordan Br