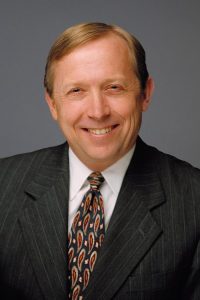 Brent James, M.D., M.Stat.
Senior Advisor – Leavitt Partners
Brent James, M.D., M.Stat., is known internationally for his work in clinical quality improvement, patient safety, and the infrastructure that underlies successful improvement efforts, such as culture change, data systems, payment methods, and management roles. He is a member of the National Academy of Medicine (formerly known as the Institute of Medicine), and participated in many of that organization's seminal works on quality and patient safety. He is a Fellow of the American College of Physician Executives.
He holds faculty appointments at several universities: Clinical Professor, Stanford University School of Medicine (Medicine); Visiting Lecturer, Harvard School of Public Health (Health Policy and Management); Adjunct Professor, University of Utah David Eccles School of Business; and Adjunct Professor, University of Utah School of Medicine (Family Medicine; Biomedical Informatics).
He is presently a Senior Fellow at the Institute for Healthcare Improvement (IHI), Boston, MA; a Senior Advisor at the Leavitt Group, Salt Lake City, UT; and a Senior Advisor at Health Catalyst, Salt Lake City, UT.
He is was formerly Chief Quality Officer, and Executive Director, Institute for Healthcare Delivery Research at Intermountain Healthcare, based in Salt Lake City, Utah.
Through the Intermountain Advanced Training Program in Clinical Practice Improvement (ATP), he has personally trained more than 5,000 senior physician, nursing, and administrative executives, drawn from around the world, in clinical management methods, with proven i