Entrepreneurship 5800/6800
Poverty Alleviation and Entrepreneurship
Professor Paul Brown
Fall 2019
Fall Break 2019 Application Now Closed.
Check back in Spring 2020 for more information about the Fall Break 2020 learning abroad experience.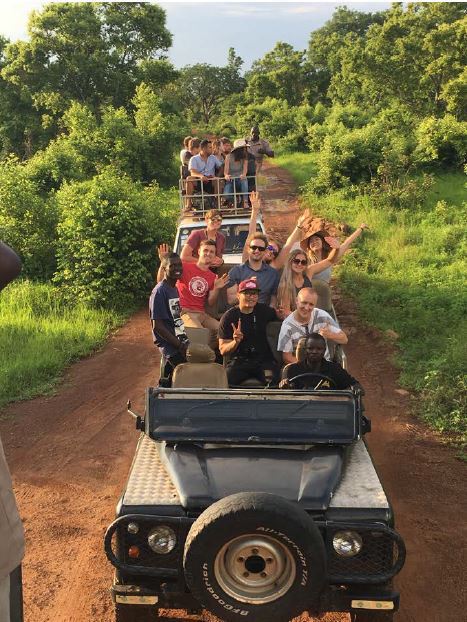 Economic development continues to be among the greatest challenges of the 21st century. Many countries around the globe are tackling those issues, and Ghana is one of the leaders. Ghana is relatively small, but it is one of the leading nations in the African continent because of its abundant natural wealth and its history of being the first Sub-Saharan African nation to achieve independence.
This three credit hour class evaluates currently influential approaches to poverty alleviation and ends with a 10-day trip to Ghana, Africa. The travel is scheduled during Fall Break (October 2019), and student teams will work with small or medium-sized Ghanaian companies in addressing real business problems and questions. This course satisfies the Global Perspectives requirement for the Entrepreneurship major, in place of ENTP 5777 (please consult with your advisor).
The course will meet weekly for the first half of the semester, from Aug. 21 to Oct. 1 on Tuesdays from 2 to 5 p.m., and will culminate in a 10-day trip to Ghana over Fall Break. There, the issues discussed in class will be confronted in reality as we are engaged as a class to provide consulting services to a Ghanaian social enterprise. Social impact and entrepreneurship are careers on the rise, and this experience is a wonderful way to see first-hand what that work entails.
Total Program Cost, including course tuition, fees, and entire travel experience: $1,000
IMPORTANT INFORMATION: Students are responsible for obtaining their own passports and any applicable visas. For U.S. citizens, more information can be found here. For students from countries other than the U.S., please contact Whitney Sanderson at Whitney.Sanderson@Eccles.Utah.edu for more information.
The application deadline was June 3, 2019.
Itinerary
Friday, Oct. 4 – Depart for Accra
Saturday, Oct. 5 – Arrive in Accra, Travel to Coconut Grove Beach Resort
Sunday, Oct. 6 – Tour Elmina Slave Castle, Travel to Ensign College of Public Health
Monday, Oct. 7 – Thursday, Oct. 10 – Project work with local business
Friday, Oct. 11 – Fly to Tamale, Travel to Zaina Lodge, Safari at Mole National Park Elephant Reserve
Saturday, Oct. 12 – Safari at Mole National Park Elephant Reserve (morning), Fly to Accra, Depart for SLC (evening)
*Subject to change
Before You Go
Please remember to fill out the Pre-Departure Checklist and take it to your Academic Advisor prior to your enrollment in Eccles Global courses.
About Professor Paul Brown
Paul Brown holds the James Lee Sorenson Presidential Chair and is a professor (lecturer) of entrepreneurship at the University of Utah's David Eccles School of Business. He is also a senior director at the Sorenson Impact Center. Paul serves on the Center's advisory board and as a member of the investment committee of UVF2, a student-run impact investment fund. He is also an entrepreneur in residence at the University of Utah's Center for Medical Innovation.
Paul teaches courses in entrepreneurship, entrepreneurial finance, social entrepreneurship and innovation, impact investing, and foundations of business. Paul has led student consulting engagements with The Church of Jesus Christ of Latter-day Saints, The Institute on Aging (a San Francisco-based nonprofit), and Access Afya, a Nairobi-based primary healthcare business that operates in informal settlements. He has been a mentor or judge for Village Capital, Healthbox, Bench2Bedside, Opportunity Quest, and Games4Health.
Prior to teaching, Paul was a managing director at Sandbox Industries in Chicago where he co-founded and co-led the firm's $300M healthcare venture capital fund. He also was the founder, president and CEO of Sandbox Innovation Partners, an innovation consulting practice. Prior to Sandbox, Paul was a vice president at the national Blue Cross and Blue Shield organization for ten years. Previous to that, he was a partner in the Chicago office of Kirkland & Ellis LLP.
In addition to his teaching, Paul serves as an advisory partner for Granite Growth Health Partners, a healthcare services venture capital fund. He is on the boards of Central Logic, CleanSlate Centers, Rendezvous, QualDerm Partners and amplify.io. He also advises Swell CX, Vytalize Health, and Advantia Health. Previously, Paul was on the boards of Capson, Phreesia, TripleCare (acquired by Curavi Health), PatientCo, Nexidia (acquired by NICE Systems), Bloom Health (acquired by three Blue Cross Blue Shield plans), and a board observer for Initiate Systems (acquired by IBM). Paul is also an active angel investor.
Paul earned dual bachelors degrees from The University of Utah and a law degree from the Northwestern University Pritzker School of Law.