Go to travel.state.gov to renew or apply for your passport. Passport processing times are currently delayed. Processing is taking 10 to 12 weeks, so make sure to apply early! Click here for more information on processing times.
In Summer Semester 2022, students can earn a full Minor in Information Systems (13 credits) while studying in Japan and Korea. The Information Systems minor teaches students to use technology in bridging all functional areas of an organization in today's highly competitive business environment. Course subjects include: systems analysis and design, database development, networking, and web development. The summer-long program includes visits to tech companies and local businesses.
The minor has a pre-requisite of IS 4410 or IS 4411, which students need to complete (with B or better) before Summer 2022. This program also includes a one-credit online class, IS 3596, an IS certification class which students take during the 4 sessions.
The IS Minor is only available to the following groups of students: pre-business, business majors or QAMO IS Emphasis.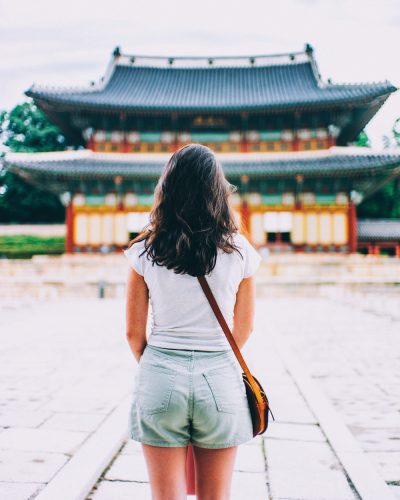 Curriculum
The program will run throughout Summer Semester and will include the following courses:
IS 3596 — Exploring IT Certifications (1 credit)
IS 4420 — Database Fundamentals (3 credits)
IS 4460 — Web-Based Applications (3 credits)
IS 4440 — Networking (3 credits)
IS 4430 — Systems Analysis & Design (3 credits)
Students will have the weekends to explore the incredible sites of Japan and Korea. Here are some of the breathtaking experiences awaiting you:
Japan
Enjoy the charm of Osaka
Visit amazing Tokyo: the New York in an alternate universe
Enlightened in Enchanting Kyoto
Korea
Experience the tension at the Korean Demilitarized Zone (DMZ)
Beautiful and scenic Busan
Bustling and dynamic city of Seoul
Immerse in Korean culture and heritage in Gyeongju
Cost
Not to Exceed $14,000
Includes: Airfare to/from Asia, tuition and fees, housing, food, in-country transportation
Not included: Incidental personal expenses
Before You Go
Please remember to fill out the Pre-Departure Checklist and take it to your Academic Advisor prior to your enrollment in Eccles Global courses.
Important Information
Students are responsible for obtaining their own passports and any applicable visas. For U.S. citizens, more information can be found here. For students from countries other than the U.S., please contact Buzz Welch at Buzz.Welch@Eccles.Utah.edu for more information.
Learn more about the IS minor on the undergraduate website.
For questions regarding the program or the trip, please contact Chong Oh at Chong.Oh@Eccles.Utah.edu.