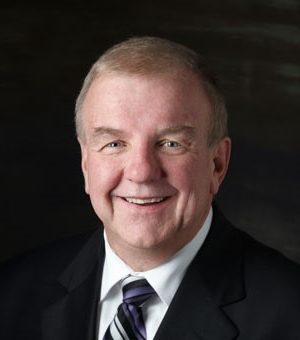 Board Chairman
Woodbury Corporation
W. Richards Woodbury served as President/CEO of Woodbury Corporation for 31 years until 2011. He then served as a Mission President from 2011-2014. He returned to again take an active role in real estate development and management at Woodbury Corporation and is currently board chairman.
He is an active partner/member in more than 150 real estate properties. Some of Woodbury Corporation's projects include University Mall (Place) in Orem, The Meadows in American Fork, Canyon Creek Shopping Center in Spanish Fork, the Utah Valley Business Park in American Fork, Magic Valley Mall in Twin Falls, Sandy Park office buildings, eight office buildings at the University of Utah Research Park and fourteen hotels. He has also been an active Investment Committee member in three private entity equity real estate funds.
Rick has been active in trade association activities, serving as past chair of both the Public Policy Coordinating Committee and the Federal Tax Committee of the National Association of Realtors, and past state chairman of the International Council of Shopping Centers. He is also a member of NAIOP, the Urban Land Institute and the Utah and American Bar Association.
Rick graduated from University of Utah Magna Cum Laude with a B.A. in Economics (1973), and then earned both MBA and JD degrees from Harvard University (1977). He chaired the Utah Valley University National Business Advisory Board in 2004 and has actively participated on said Board from 2001 to present. Rick currently serves as a Trustee of the Utah School & Institutional Lands Administration. He has taught or lectured at UVU, BYU, Westminster and the University of Utah.