Amber (Amber Dog, Amber Pup)
Submitted by Sheena McFarland, Marketing + Communications
Jack Russell Terrier
Primary locations: Laundry pile freshly out of the dryer;
any available blanket
Specializes in: Visitor alert, treat eating,
party hostess (when that was still a thing!)
Honors: Cuddle buddy of the year
Motivated by: Bananas, carrots, pizza crust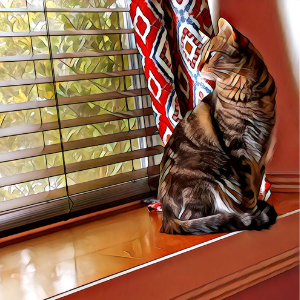 Bartholomew (Bart, Bartie Boy)
Submitted by Mitch Daley, Marketing + Communications
American short hair
Primary locations: Wherever it's inconvenient
Specializes in: Object gravity testing, bunting studies
Honors: Exemplary desk drawer inspector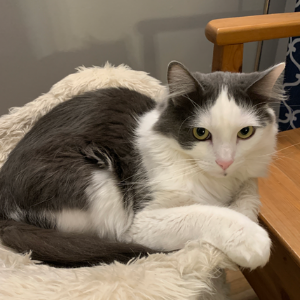 Chowder (Chow, Chow-Chow, Mr. Chow)
Submitted by Katie Drake, Marketing + Communications
Domestic Long Hair
Primary locations: Top bunk bed, guest bedroom bed
Specializes in: Advanced Napping Solutions, Digital Literacy Through Walking on Keyboards, Box Sitting Strategies
Honors: Voted Most Surly Class of 2020
Motivated by: Rotisserie chicken, tuna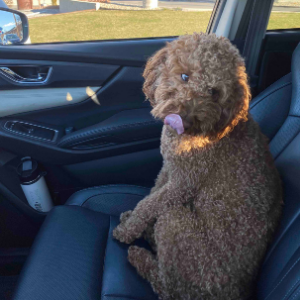 Louie
Submitted by Jessie Richards, Assistant Professor/Lecture Management
Golden Doodle
Primary locations: At my feet on the floor
Specializes in: Sleeping, barking at the doorbell, licking keyboards,
box sitting strategies
Honors: Emotional support animal for pandemic-related woes
Motivated by: Steak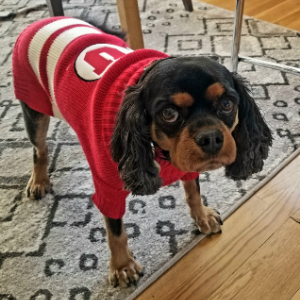 Rocky
Submitted by Katie Abby, BCS
Cavalier King Charles Spaniel
Primary locations: Anywhere I am,
although he has a bed under my desk
Specializes in: Runs, walks, snuggling, and retrieving out of the creek
Talents: World-class taljer and the BCS ESA dog
Motivated by: Steak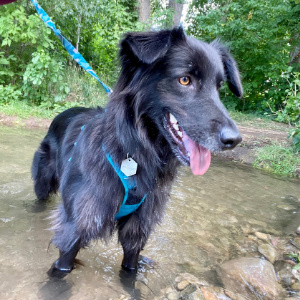 Terra (Terra-ble, Terr Terr)
Submitted by April Wilson, Alumni Relations & Development
Primary locations: At mom or dad's feet, or on mom's side of the bed
Specializes in: Security and perimeter checks, mail carrier critic,
cat enthusiast
Hobbies: Harassing feline siblings, sighing loudly,
general dramatic performances
Motivated by: Salmon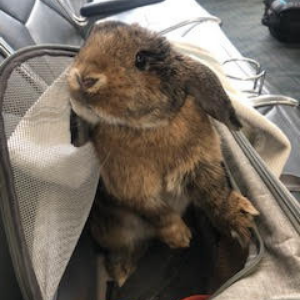 Honey Bunny
Submitted by Tara Hardison, The Office of Student Engagement & Assessment
Holland Lop
Primary locations: Running circles around my feet
Specializes in: Running Tara's life, being adorable
Hobbies: Snacking & snuggling
Motivated by: Bananas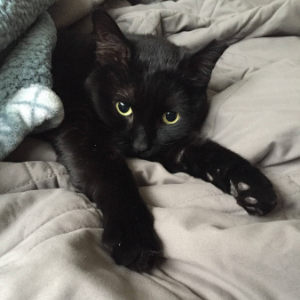 Shadow
Submitted by Ali Tomney, UAS
Bombay cat
Primary locations: In HIS bed (in the guest room)
Specializes in: Sleeping, stretching, and whining
Talents: Being too photogenic for me to handle
Motivated by: literally any food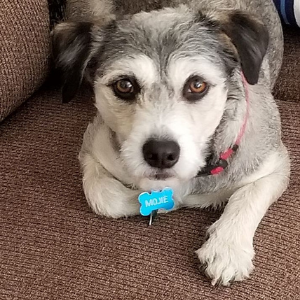 Mojie (Moj, Moj-Meister, Good Boy)
Submitted by Schaun Davis, Business Career Services
Border Terrier
Primary locations: Livingroom window, wherever his people are,
a spot in the sun
Specializes in: Neighborhood watch, backyard patrol,
running for the sheer joy of it
Awards: Best continuous toy squeaking; Best snuggle buddy
Motivated by: Bacon-wrapped sweet potato
Booger (Boog Millie)
Submitted by Kaylee Miller, OIS - MSIS & MSBA
Long haired domestic
Primary locations: On the couch, on top of tall shelves, or in my lap
Specializes in: Cell phone charger destruction
and faking injuries (to get treats)
Hobbies: Attacking the shower curtain, collecting my hair ties, and swatting the blind's pull strings
Motivated by: Shrimp, turkey, chicken, and yogurt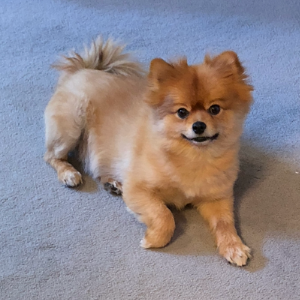 Cooper (Cooper Roo, Coop-a-Loop, Baby Cooper)
Submitted by Raven Clissold , Professional MBA
Pomeranian
Primary locations: Any available lap,
anywhere there's grass, snow, or water
Specializes in: Being super cute, barking at strangers, car rides,
acts like he's starving to get more food
Awards: Best personality
Motivated by: Trick treats, water, and snow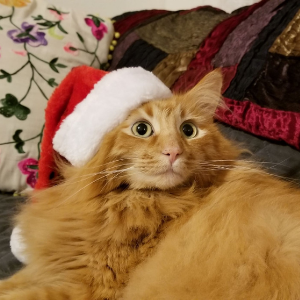 Atesh (Tesh, Fzz-Gig, Ruggleapagus, Hamhock)
Submitted by Regina Mavis, Finance
Main Coon/Tabby
Primary locations: Washington
Specializes in: Fashion & Psychology
Hobbies: Herding, Comforting & Clowning
Motivated by: Prawns & Tuna
Gerald (Jerry, Ja-kitty)
Submitted by Kaylee Miller, OIS - MSIS & MSBA
Tabby
Primary locations: In a chair or waiting in the kitchen for you
to drop some food
Specializes in: Attacking invisible objects, smelling food from across the house, and purring loudly
Hobbies: Cuddling with his best friend, Bear the German Shepherd
Motivated by: Literally any food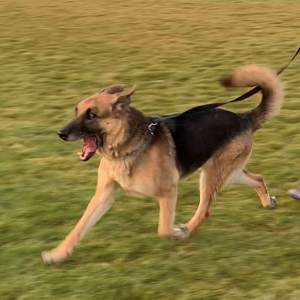 Bauer (B-Man of the Hour, Bobo)
Submitted by Kaylee Miller, OIS - MSIS & MSBA
German Shepherd
Primary locations: Right outside any room I'm in (guarding)
Specializes in: Yodeling, stampeding outside or back inside,
and surveillance
Hobbies: Learning new tricks, trying so hard to be a good boy,
and going down the slide at the park
Motivated by: Peanut butter filled pretzels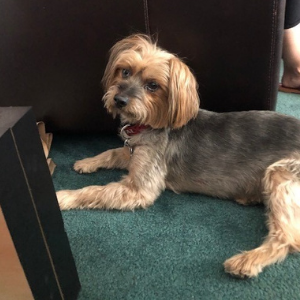 Alfie
Submitted by Whitney Sanderson, EGLA
Yorkie Silky Mix
Primary locations: Lounge Chair, front window, hiding under the bed
Specializes in: Napping, toy chewing, family cuddle expert,
security barker
Talents: Being a scaredy dog and all-around barker
Motivated by: Cucumbers, watermelon and greenies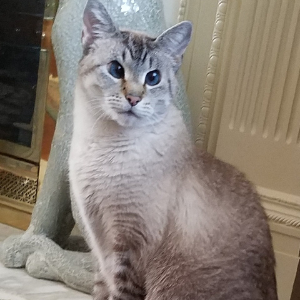 Catmandu (Mandu, Kittyboo, Buddy, Little Bugger)
Submitted by Jane Dower, Business Career Services
Siamese mix
Primary locations: Salt Lake City
Specializes in: Constant companion, howling, sleeping, hugging
Talents: Keyboard dancer and tail end Zoom/Teams flasher
Motivated by: Cat bickies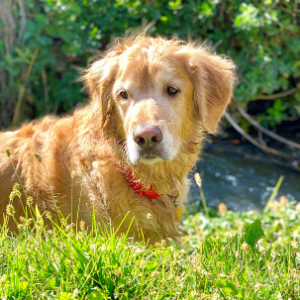 Maisey (Maisey Moose, Maisey Crockett)
Submitted by Lauren Voorhees, Undergraduate Advising Services
Golden Retriever
Primary locations: Couch, above or below all AC vents,
all piles of clean laundry
Specializes in: Sassy attitude studies, inverted sleeping positions
Talents: Obsessively chasing tennis balls, eating from the garbage, emotional support cuddles,
barking at everything that moves, sassing her mama
Motivated by: Entire pizzas, peanut butter, sunny side up eggs,
rolls of toilet paper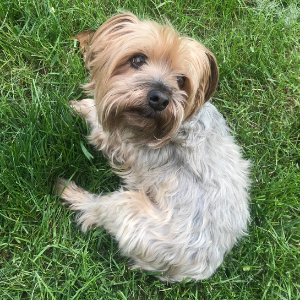 Murphy (Mr. Murph, Murphalicious)
Submitted by Rachel Osterman, Eccles Salesforce Team
Terrier mix
Primary locations: Beds, laps
Specializes in: Sleeping with his belly up and
tongue out, snoring loudly
Hobbies: Cuddling, extracting treats from toys as quickly as possible
Motivated by: Bacon, carrots, peanut butter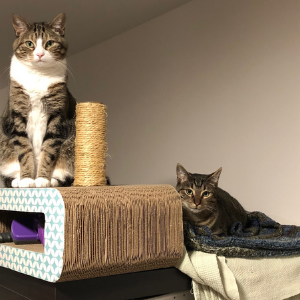 Kitty City (Kitty, fuzzy beast) and Sam (Sammy, Sammy-Samerson, Stinky Pete, Sir)
Submitted by Stacey Thompson, Salesforce Team
Domestic Shorthair
Primary locations: Kitty can be found in any available empty box and Sam worshipping/waiting for food to come out of his automatic feeder
Specializes in: Being adorable and hilarious, playing fetch, chasing laser points, and providing emotional support via cuddling
Hobbies: Pawing at your leg and meowing at you until they get food, and intensely judging their humans (see photo)
Motivated by: Cod (Kitty) and chicken (Sam)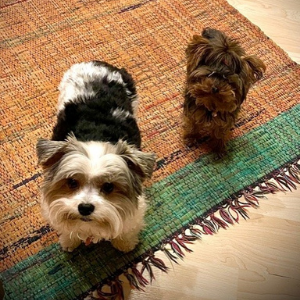 Fin (black & white) and Navy (brown)
Submitted by Alayna Williamson, Finance/Business Scholars/Admissions
Teacup Yorkshire Terriers
Primary locations: Kitchen begging for human food
Specializes in: Sleeping, barking, and cuddling
Motivated by: Anything NOT in the dogfood genre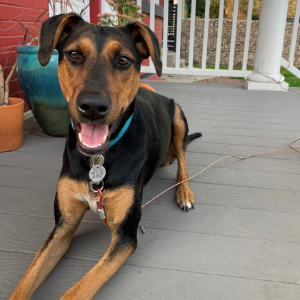 June (Junie, June Bug, Junith, Stinky Dinky)
Submitted by Hannah Hill, Professional MBA (Staff)
Doberman/Blue Heeler Mix
Primary locations: Any patch of sun, a
maximum of one foot away from her moms
Specializes in: Peanut butter detection,
providing background music during Zoom meetings
Honors: Ears recognized nationally for softness
Motivated by: Cheese, whatever Trader Joes treats
cause the stinkiest breath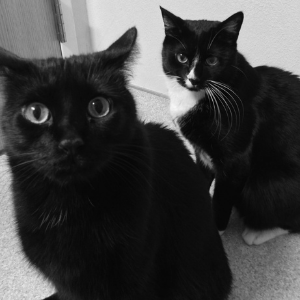 Gizmo & Gadget (Cat & Little Cat)
Submitted by Nate Zwart, School of Accounting
North American Domestic
Primary locations: On a lap, on the Lovesac, or wherever the food is
Specializes in: Nutrition with an emphasis
in ingestion and regurgitation
Talents: Keeping your lap nice and warm in the cold winter months
Motivated by: Cheetos and salmon
Noxious (Nox or Noxy)
Submitted by Victoria Cabal, Office for Student Inclusion
Primary locations: Basking in the sun, napping on the couch, curled up on a lap
Specializes in: Meowing for attention or just to say something
Awards: Softest cat in the world
Motivated by: A lick of ice cream if she can get it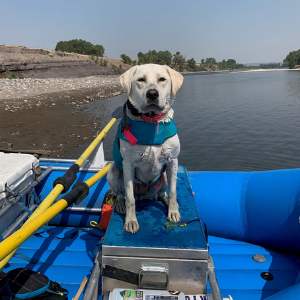 Millie (Millie Anne, Mill-Mill, Mills, Bubs)
Submitted by Meghan Bubel, MAcc, MSF, MRED
Labrador Retriever
Primary locations: Curled up on her bed watching me work
Specializes in: Fetch, cuddles, being a good girl
Hobbies: Recycling cans, opening the fridge on command, river rafting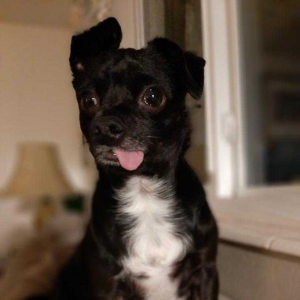 Otis (Piglet, Little Man, The Toothless Wonder)
Submitted by Lisa Collins, Marketing + Communications
Chihuahua and Boston Terrier Mix
Primary locations: Bed, couch, and wherever people food resides
Specializes in: Kitchen Clean-up, Home Security, and
Family Heating Pad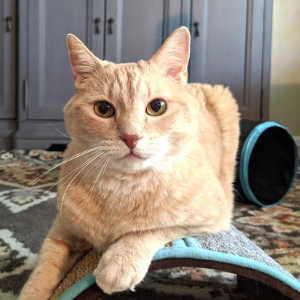 Doby (Yittle)
Submitted by Lisa Collins, Marketing + Communications
Orange Tabby Mix
Primary locations: Bed, window sill, tiny boxes
Specializes in: Water Observation, Door Monitoring, Cuddling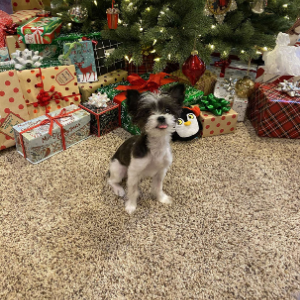 Buzz
Submitted by Parker Law, OSC
Mi-Ki
Primary locations: Anywhere I am
Specializes in: Sleeping + Eating (double major)
with Zoomies emphasis
Honors: Puzzle champion, aspiring guard dog
Motivated by: Chicken, whipped cream, cheese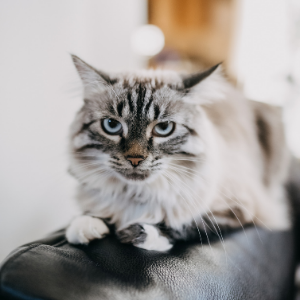 Atlas
Submitted by Carley Cooper, BCS Marketing Team
Lynx Point Siamese
Primary locations: Moms pillow while she's sleeping
Specializes in: Hiding in cupboards, going on walks in my stroller,
and watching birds
Awards: Prettiest and sassiest Feline on the block
Motivated by: Salmon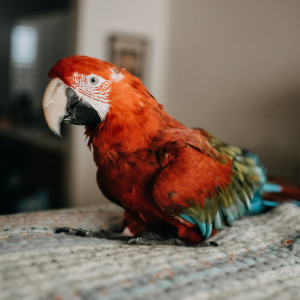 Chili
Submitted by Carley Cooper, BCS Marketing Team
Green Wing Macaw
Primary locations: Anything high up: Her perch, showers,
tops of chairs, and anywhere around people!
Specializes in: Singing opera and being a friend to everyone
Awards: The world's cutest pet (and she knows it too)
Motivated by: Macaroni and popsicles!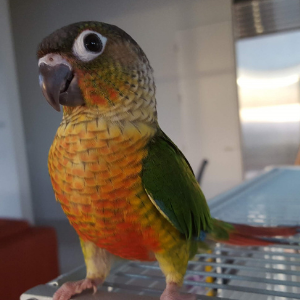 Little Bird (LB, Turdly-Bird, Little Baby)
Submitted by Sophia Blankevoort, Business Administration
Parrot – Conure
Primary locations: The tallest shoulder or head in the room, in the air, on tables and chairs
Specializes in: Causing mischief, major in human communication, cuddling 101
Hobbies: Loves to laugh (at people), attack bird, most loving, cutest, and sweetest household member, loves giving kisses
Motivated by: Rice, ginger, seeds, apple, pasta,
anything a person's eating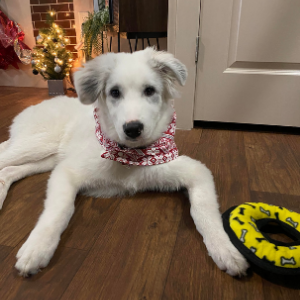 Chef (Cheffie, Lil Chef)
Submitted by Trevor May, Information Systems
Great Pyrenees
Primary locations: The couch, the dog park,
his watchtower (our balcony)
Specializes in: Advanced barking, Food science, Chew Toy Destruction
Hobbies: Sleeping, napping, snoozing with zoomies in between
Motivated by: Scrambled eggs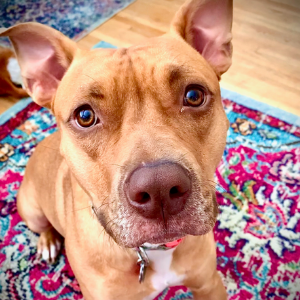 Ginger (Ging, Gingy, Baby, Stink Butt)
Submitted by Katie Drake, Marketing + Communications
Pitbull terrier
Primary locations: Wherever her people are,
preferably on their laps
Specializes in: Advanced Snuggling Techniques, Dropped
Food Optimization, Masters of Animal Playmate Administration
Hobbies: Official COVID-19 School-at-Home Recess Monitor
Motivated by: Peanut butter, sausage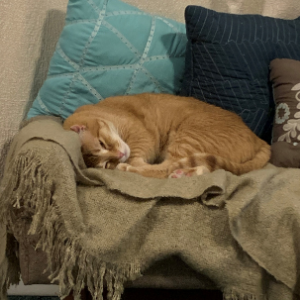 Bing Clawsby (Bing, Bing Bong)
Submitted by Mitch Daley, Marketing + Communications
American short hair
Primary locations: Cozy closets
Specializes in: Purring 101, nap studies, mew pathology program
Honors: Boop snoots laureate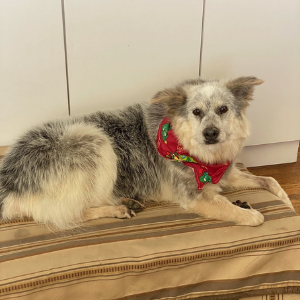 Bailey
Submitted by Terry Pavia, Marketing
Primary locations: Dog bed
Specializes in: Getting petted, squeaky toys
Motivated by: Sweet potatoes, salmon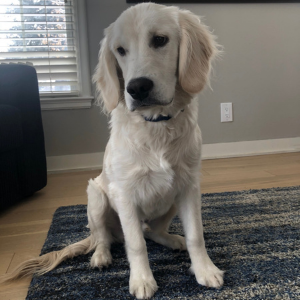 Roland (Roland the Funslinger, Rolando, Rolly Polly)
Submitted by Ben Abbey, Marketing + Communications
Golden Retriever/Cocker Spaniel
Primary locations: Laying at the feet of the nearest human
Specializes in: Psychological manipulation through cuteness
Hobbies: Eating, hunting own tail, eating more
Motivated by: Walks, squirrels, head pats
Juno
Submitted by Ali Tomney, UAS
Cockapoo
Primary locations: Livingroom window; in our bed
Specializes in: Sleeping, barking at delivery personnel,
and learning new tricks
Honors: Senior V.P. of Snuggles Inc.
Motivated by: Freeze-dried salmon bites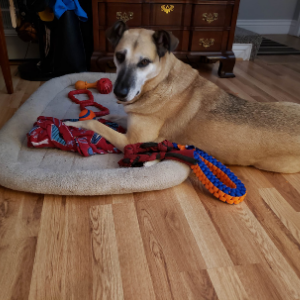 Trixie (Trixiedawg, dog-a-wog)
Submitted by Deborah Hansen, Finance
German Shepherd/Greyhound
Primary locations: Couch (by me), spare room (aka husband's office)
Specializes in: Trainer (she walks us 4-5 times a day), snuggler, security
Talents: Destroying 'indestructible' dog toys
Motivated by: Dog food, apples, jerky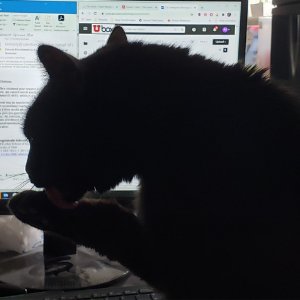 Midnight
Submitted by Ali Tomney, UAS
Primary locations: My desk, between me and the computer
Specializes in: Demanding attention, or ignoring you completely
Hobbies: Zoom-bombing student appointments
Motivated by: Salmon dog treats
Kitty Boy
Submitted by Monica Stapley, IT Group
British Shorthair-Manx Mix
Primary locations: Any room with mom, USA
Specializes in: Sleeping on mom's face,
playing fetch with the same ball for 11 years
Honors: Ph.D. in food regurgitation and apathy
Motivated by: Grasshoppers, hummingbirds, dragonflies, and worms
Dugan
Submitted by Rachel Hayes, Accounting
Ginger Retriever
Primary locations: Any room with mom, USA
Specializes in: Resting, groaning, rolling in things that smell gross
Talents: Master of disguising himself as something that smells gross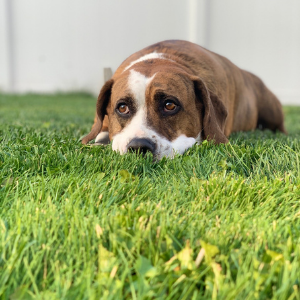 Sargeant (Sarge, Sargie, Sausage)
Submitted by Mikel Brownie, Facilities Group
Pit Bull / Bassett mix
Primary locations: Wherever mom is
or sleeping on the bed upside down
Specializes in: Standing guard over the neighborhood
at the bay window
Talents: Sleeping, snoring, 7-yard dash, eating,
looking at you with forlorn eyes
Motivated by: Anything that looks edible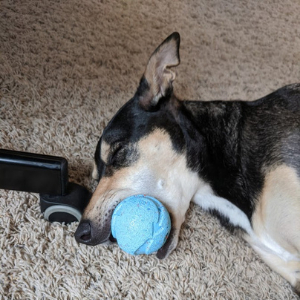 Doctor
Submitted by Maclean Gaulin , Accounting
Australian Kelpie
Primary locations: Where throwable toys are
Specializes in: Fetch, fetching, bringing things back for more fetching,
running after balls, dropping toys on you for throwing, and fetch
Honors: Fetch champion
Motivated by: Stuffed animals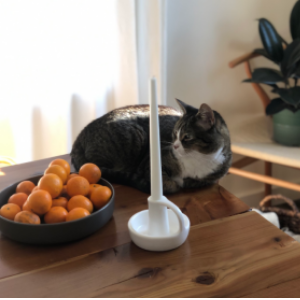 Chloe the Cat
Submitted by Ben Repak , Salesforce Team
Domestic shorthair
Primary locations: Sleeping on the warm internet router
Specializes in: Being the best companion ever
Hobbies: Giving jumping headbutts and playing fetch
Motivated by: Brie, tuna tartare, and
warm milk served at 28 degrees Celsius
Maggie Jo (Josephine, #MaggieWag, Gee-Bee)
Submitted by Kaylee Miller, OIS - MSIS & MSBA
Chihuahua mix
Primary locations: Under a blanket or by a heater
Specializes in: The art of persistence, cuddling,
and keeping the cats in line
Talents: Intimidating large dogs and being scrappy
Motivated by: Stolen cat food, chips, and yogurt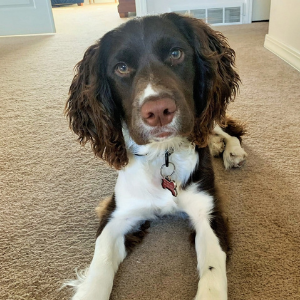 Berkley (Stinker, Dummy)
Submitted by Kris Bosman, Alumni Relations + Development
English Springer Spaniel
Primary locations: Salt Lake City / Couch / my bed
Specializes in: Chasing tennis balls, trying to sneak food off of the counter, chasing the poor innocent cat, generally being a puppy
Awards: Cutest Quarantine Puppy in the neighborhood
(and there are a few!)
Motivated by: Bacon, bacon, and bacon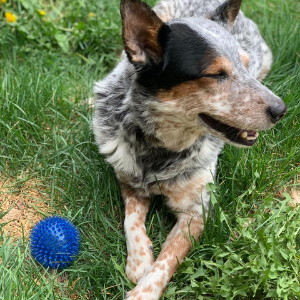 Cooper (Coopie, Coople)
Submitted by MaryAnne Hafen, Business Career Services
Australian Cattle Dog
Talents: Gives a firm handshake
Awards: Master Fetcher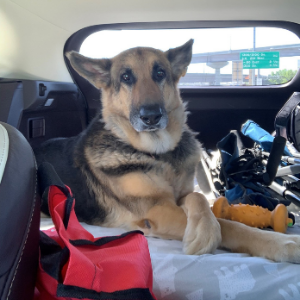 Bear (Goose, Baby Blue, Alf)
Submitted by Kaylee Miller, OIS - MSIS & MSBA
German Shepherd
Location: Halfway in my lap, dog bed, or kitchen floor
Specializes in: Comfort hugology, the art of stealing firewood,
and pouting practices
Hobbies: Playing with his bacon-flavored bone, hide and seek, and
putting the cat's whole head in his mouth
Motivated by: Blueberries, carrots, and chicken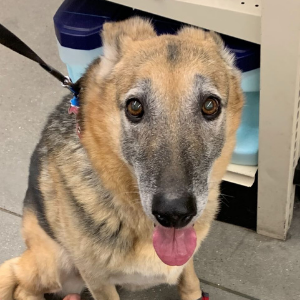 Lady Ann Trottsie Miller (Annie, Ann Pans)
Submitted by Kaylee Miller, OIS - MSIS & MSBA
German Shepherd
Location: Bottom of the stairs, in the hallway, and
basically anywhere that's in the way of walking
Specializes in: Selective hearing and
putting an odd spin on Classical Conditioning
Hobbies: Herding the cats, carefully removing
ornaments from the tree, and eating odd things (like blankets)
Motivated by: Peanut butter and trail-mix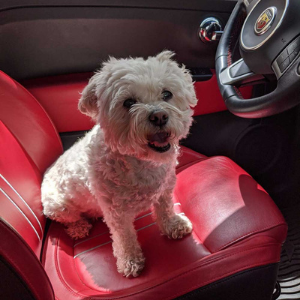 Wicket (Wickie, Miss Wickie, Bean, Bug, Bear, Princess Tinkle-Trots McPiddleton, Short Cheese)
Submitted by Greg Francom, Marketing + Communications
Maltipoo
Location: Laps, couch, puffer coats when available
Specializes in: Master's in leisure studies; undergrad major in PRT, Pets, Recreation, and Treats; minor in human psychology manipulation. Current roles include Director of Security and Head of WFH HR
Hobbies: Going on walks, snuggling, playing stick, car rides, Puppy of the Month 116 months running
Motivated by: Bell peppers, peanut butter, salmon, crunch, whatever is on your plate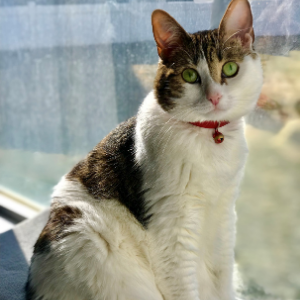 Koshka (Kitty)
Submitted by Jenny McConnell, Finance
Shorthair white/tabby mix
Location: On her various perches basking in the sun
Specializes in: How she can be close enough to be with us in the same room, but far enough where we can't touch her
Hobbies: When I do let my humans hold me, digging my claws in their shoulder while I make biscuits is my favorite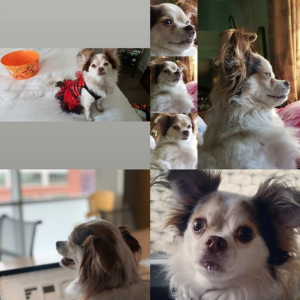 Pequita (Pecas)
Submitted by Vanessa Johnson-Ojeda, Office of Student Engagement & Assessment
Papillion/Chihuahua
Location: Wherever she pleases
Specializes in: Napping, snoring, sass, security,
emotional support, snuggles
Awards: Best rescue puppers since 2016
Motivated by: Ham and whatever you are eating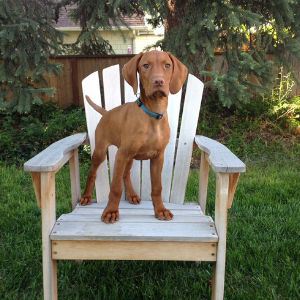 Absaroka Jackson (Jax, Buddy, Red Dog)
Submitted by Philip Jeffs, School of Accounting
Vizsla
Location: Center of attention–at all times!
Specializes in: Guest student for at home filming of accounting classes.
He knows more about tax than most humans.
Talents: Teasing anyone or anything, regardless of phylum
Motivated by: Bison and liver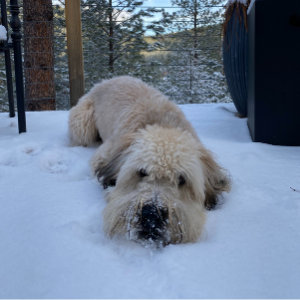 Finnegan
Submitted by Marlene Plumlee, Accounting
Soft-coated Wheaton terrier
Location: My feet
Specializes in: Destroying things of value; Constant overwhelming
enthusiasm — for everything
Talents: Digging in the snow
Motivated by: Anything on the counter; Chicken bologna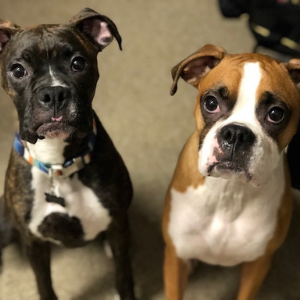 Roxy (tan)/Remi (brindle)
Submitted by Lauren Lance, Finance
Boxers
Location: Living Room
Specializes in: Weird Noises, Visitor Alerters, Pacing when it is time for food and dramatic performances
Motivated by: Soft Tortilla Shells and any kind of dog bones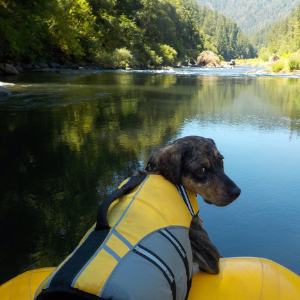 Moki (Mokkers, Mokster, Bad Boy)
Submitted by Laurie Bragg, OIS Department
Catahoola (mostly)
Location: dog bed, or daughter's bed if she's home
Specializes in: Sleeping, Snuggling, Running, Chasing deer while going deaf to master's calls, eagerly awaiting his next meal
Talents: 23 & Me says I have a gene for human expressions. Also, I can digest anything that fits in my mouth
Motivated by: All foods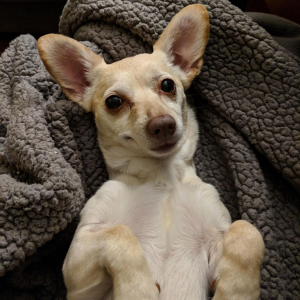 Zoe (Baby Girl)
Submitted by Lisa Collins, Marketing + Communications
Chihuahua and Dachshund Mix
Location: Bed, lap, blanket
Specializes in: Blanket Burrowing, Scavenging Unattended Food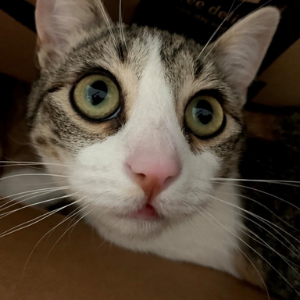 Isabella Catellini (Izzy, Iz Biz, Iggy, Miss Iz)
Submitted by Lisa Collins, Marketing + Communications
Calico Mix
Location: Clothes drawers, boxes, cat tube
Specializes in: Chirping, Laser Light Studies, Cardboard Connoisseur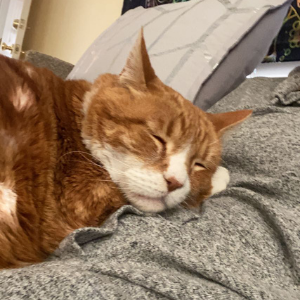 Ticco
Submitted by Hailey Lebold, Pre-Business BS
Orange Tabby Cat
Location: My bed or the couch
Specializes in: Sleeping and laying in the sun
Hobbies: Crying whenever he wants any sort of attention
Motivated by: Anything with cheese or salt
Keoni, "KoKo", "Marty", "Moshi", and "Koji"
Submitted by Alicia Kent, Business Administration
English Bulldog
Location: The couch, lawn, and kitchen
Specializes in: Benefits of sleeping on your back and being a grump
Hobbies: Sunning myself in the backyard, taking long naps on the couch, and waiting under the counter for food
Motivated by: Pasta and Tortillas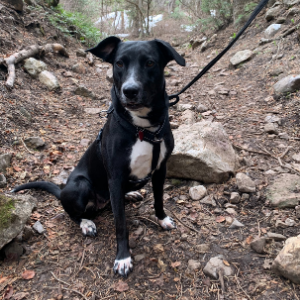 Sox
Submitted by Katie Laessig, Finance, BS
Black Lab/Pit mix
Primary locations: Anywhere outside
Specializes in: Sleeping, follower, hiker
Talents: High fives for days
Motivated by: Chicken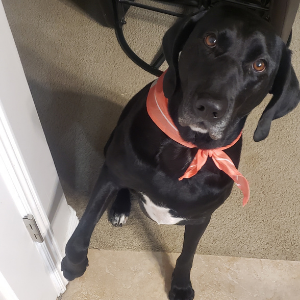 Marley (Mars, Marley bug, chunk, snuggle butt)
Submitted by Abby Harris, Marketing
Lab Mix
Primary locations: Right next to me…always
Specializes in: Fetching, walks, begging, and scaring you
Awards: Fastest Eater Award and best handshakes
Motivated by: Literally anything…
Kuma (Mama bear, fluffy, fluff butt)
Submitted by Abby Harris, Marketing
American Akita
Primary locations: Floor
Specializes in: Being the best fluffy pillow and sleeping
Talents: Shedding everywhere and protecting our home from birds
Motivated by: Snow and ice cubes. Anything she can find.
Pet submission form
(Please allow up to 72 hours for your submission to show)